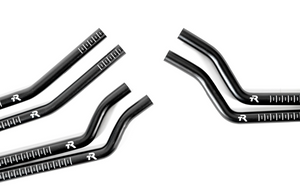 TriRig Extensions
TriRig has always been interested in front-end geometry and comfort, since we first came on the scene in 2010. Some readers have even called us the 'Front End Specialists.' Today, we are pleased to launch the most thoughtful and useful aerobar extensions we have ever designed. Introducing Gamma 115, Gamma One, and Gamma 24. These extensions each have specific applications in mind.
Gamma 115
is the newest shape in our lineup, and offers the perfect high-hands solution for those who want to achieve maximum rise while maintaining Gamma's industry-leading ergonomics. The extensions provide a massive 115mm of rise, while maintaining a perfect hand grip position, horizon angle of 30 degrees, and maximum reach adjustment.
Gamma One
is the perfect extension for modern aerobars, with exactly 75mm of rise and a 24-degree grip angle for perfect ergonomics. Moreover, its quick-rise shape is optimized for modern forward-offset clamps, so that you can achieve your preferred reach while still achieving that perfect 75mm of stack.
Gamma 24
is designed as a universal-application product. It offers a single 24-degree bend, with extra length on both ends to offer the widest possible range of adjustment. It offers 0-105mm of stack height (depending on where you cut it), and loads of reach adjustment. The grip angle maintains a constant 24 degrees regardless of where it is cut, to keep the athlete's hands at a comfortable angle regardless of stack.